【Eng.Ver】Going to summer festival? Take our "Leather" bag & accessories with Yukata !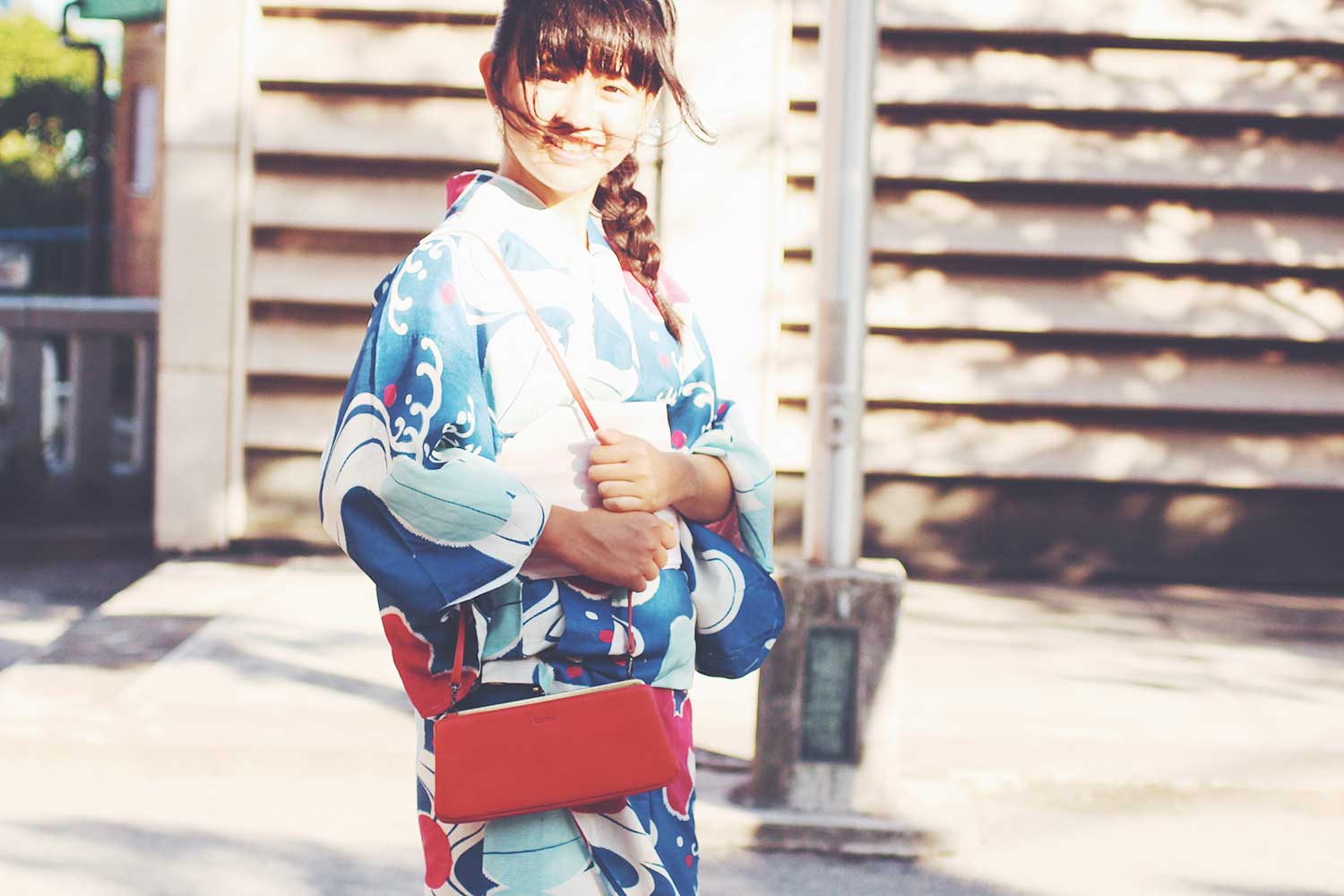 Real summer has come.
In the evening, you can hear the sound of fireworks and Japanese festival flute from somewhere.
Today, following last week, we introduce to the "leather bag" and accessories that suits Yukata, which Kanmi. Recommends to make outing in Yukata more comfortable and more fashionable in this summer.
Dressed specially in the summer nights, make special memories…
Simple & clean rectangular purse for minimal luggage
#simple purse
#with Yukita
If you want to enjoy the festival lightly, we recommend our purse!
There are pockets on both sides of the purse, and you can store smartphones and pass cases.
Because it is a simple shape, it is compatible with any Yukata.
If you unfasten the shoulder strap, you can use it as a long wallet.
Bag
◆ Marche Long Purse / Red
¥17,820(inc.tax)
shoulder strap attached

Shop here
Enjoy the festival lightly with round purse & cute "Gamaguchi" wallet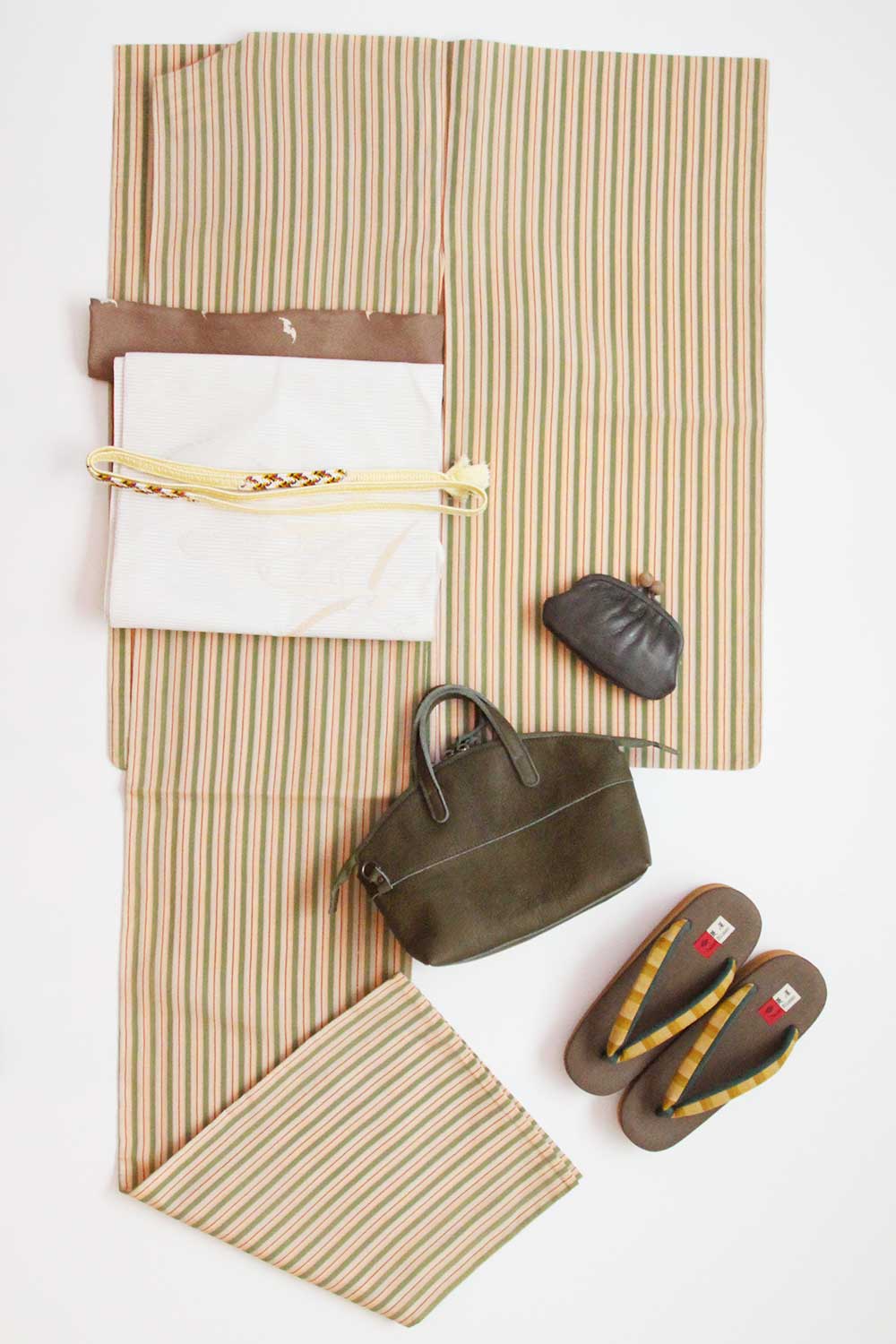 #small luggage
#Gamaguchi
Classical pattern Yukata accents retro modern purse.
With a pretty rounded shape, it's like a round muffin.
Unfasten the shoulder strap, even hand-held is OK.
Shop at festival stalls with a wooden ball Gamaguchi wallet!
Bag
◆ Muffin Purse / Green
¥17,280(inc.tax)

Shop here
Wallet
◆ motte Wooden Clasp Small Gamaguchi Wallet / Navy
¥5,616(inc.tax)

Shop here
Trapezoid bag and smartphone case with dot pattern for big luggage!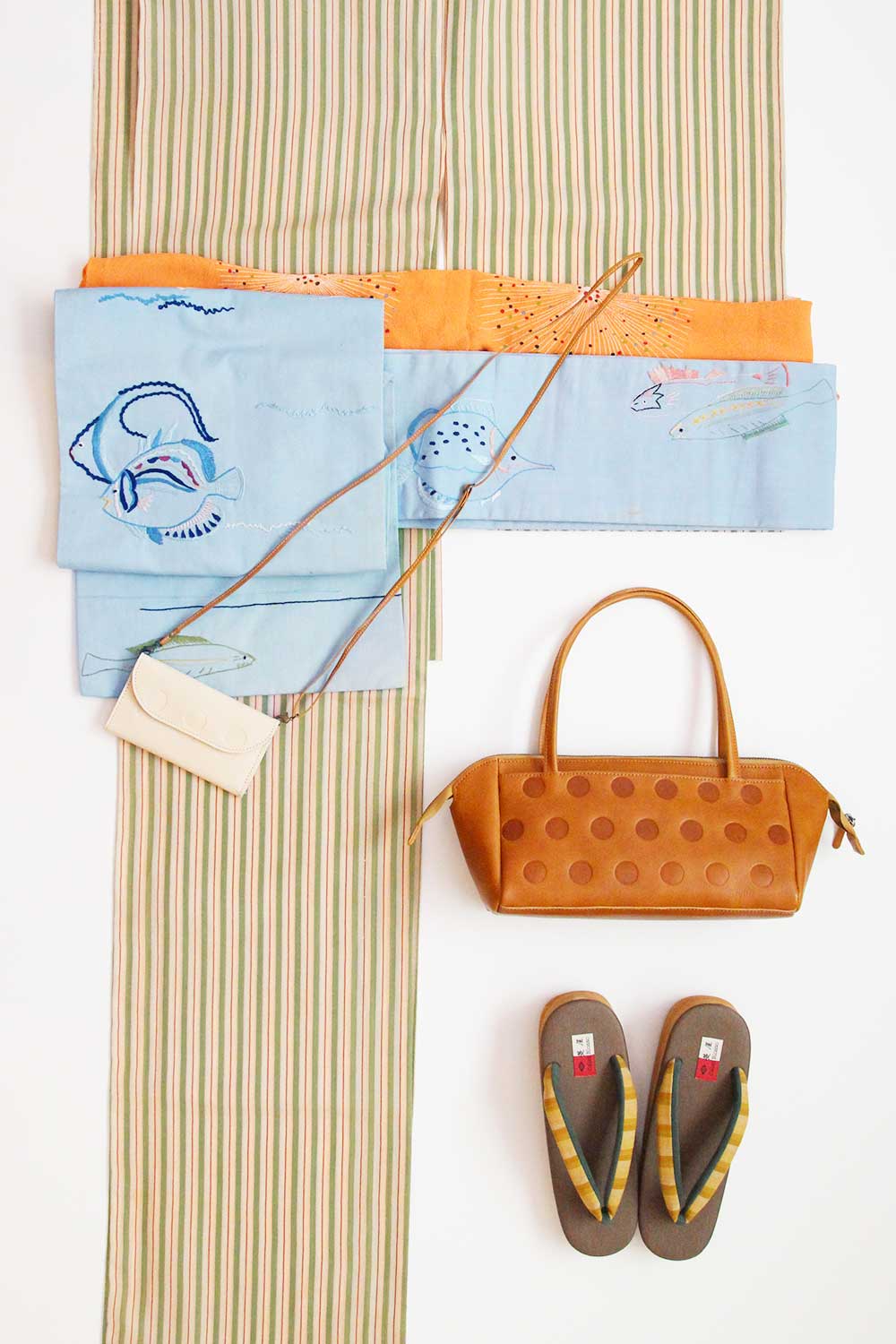 #Kimono Bag
#Don't lose smartphone
Shape like a kimono bag, and it's a mini bag of candy series with a cute dot pattern.
Because the gusset is large, luggage such as makeup tools and water bottles can be stored neatly.
In sameway, the smartphone case of the candy series becomes a purse style if a long strap is attached.
You will not miss a moment of fireworks or a moment of shutter opportunity because you can take out your smartphone quickly.
Bag
◆ Candy Mini Bag / Caramel
¥12,420(inc.tax)

Shop here
Smartphone Case
◆ Candy Smartphone Case(M) / Vanilla
¥6,264(inc.tax)

Shop here
Smartphone Case Strap
◆ Long Strap
¥864(inc.tax)

Shop here
Size and cuteness are just right, donut bag and obi clip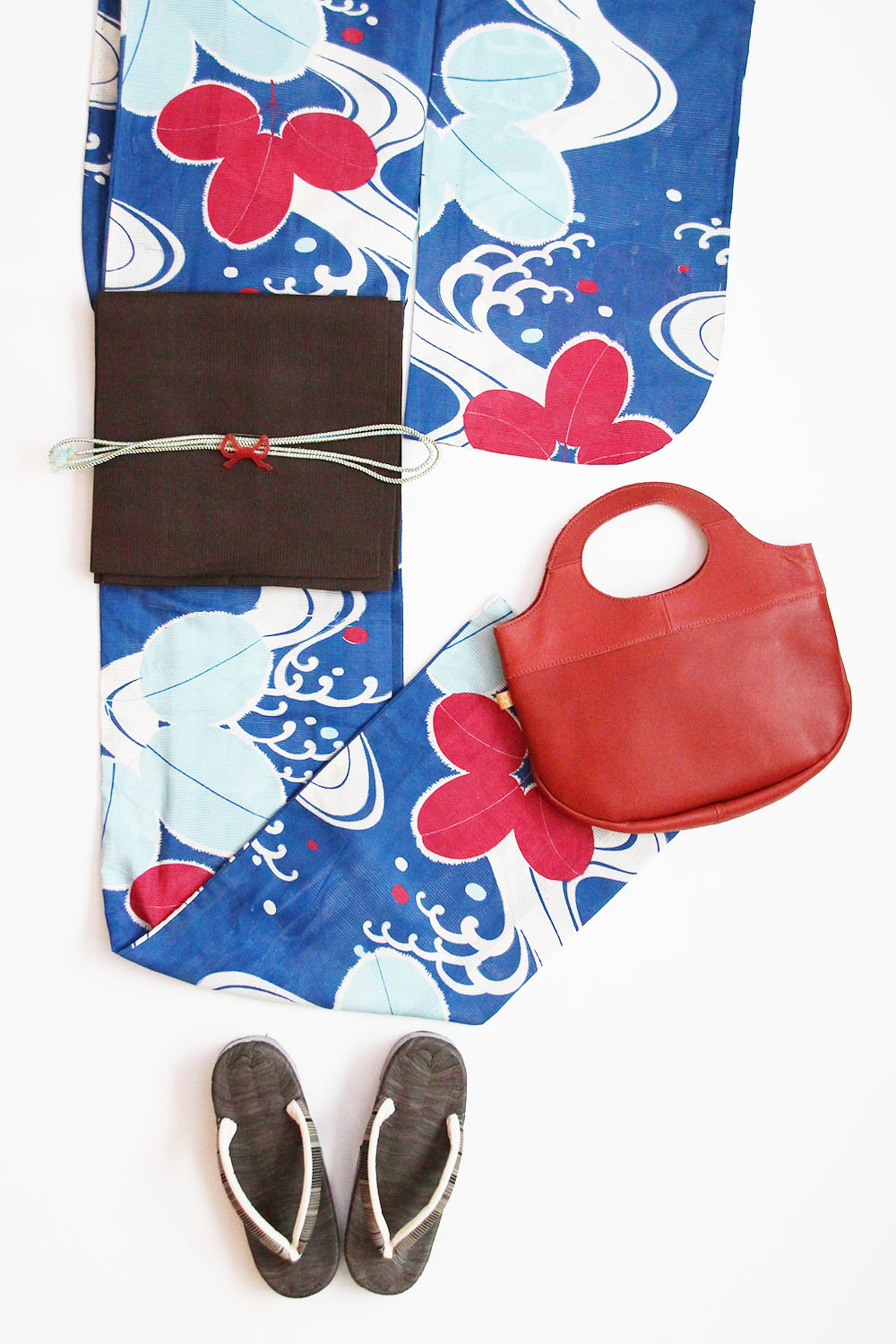 #Large capacity
#in the magazine
#cute obi clip
A simple and cute leather bag is recommended for large-patterned ornate Yukata!
Round handles donut bag is "just good size" to fit in with things such as wallets, pouches and smartphones.
Please enjoy wearing your own dressing way of Yukata with a ribbon-shaped brooch for obi clip.
Bag
◆ Donuts Bag(M) / Red
¥17,820(inc.tax)

Shop here
Obi Clip
◆ Candy Ribbon Brooch / Cherry Pink
¥1,620(inc.tax)

Shop here
Show new items of autumn and winter! New item 2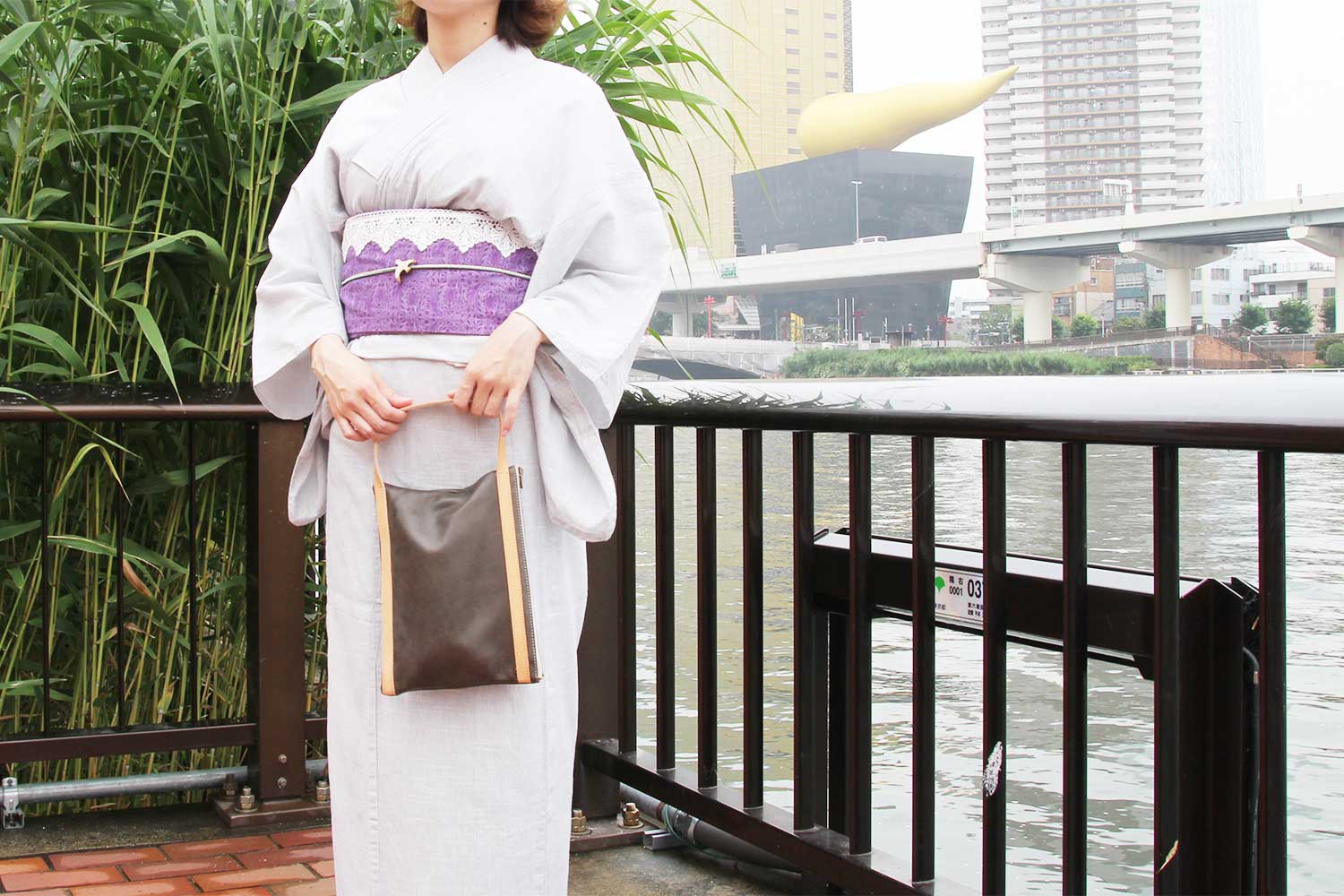 This week, we introduce the latest item "neo uncle bag" which's distinctive vertical rectangle.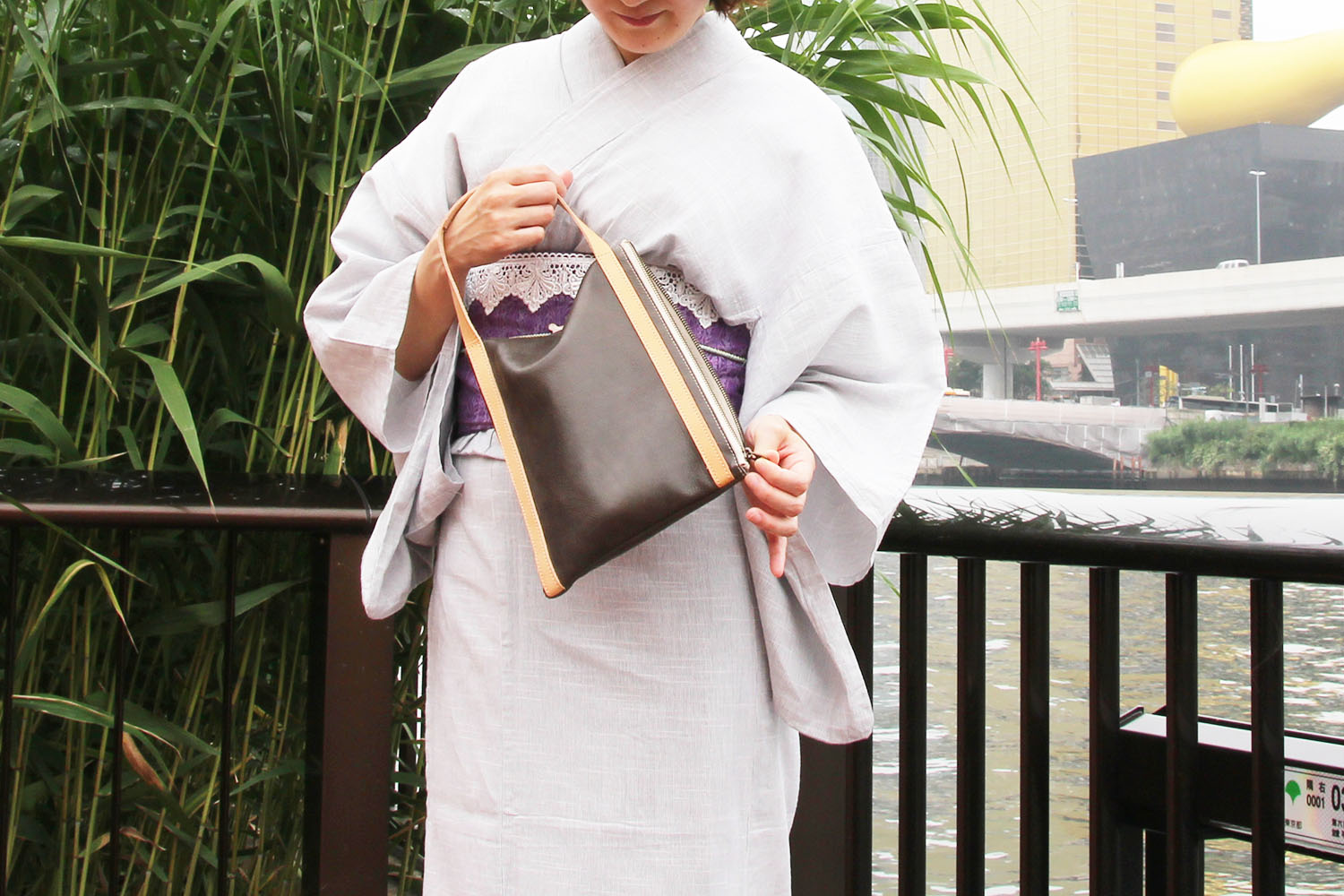 You can carry in and out of the luggage from the zipper attached to the side.
please look forward to release!
Asakusa Bon dance festival & recommended event information
It is a Bon dance festival held near the atelier and shop of Kanmi.
● Higashi Hongan-ji Bon Dance Festival
Aug 21th (Wed), 2019
*To be postponed to next day in case of rain
https://www.honganji.or.jp/news/2019/07/post-248.html
● Sumida River Dance Summer Festival
Aug 24th (Sat)~Aug 25th (Sun), 2019
*canceled when it's rain
https://www.enjoytokyo.jp/life/event/644246/
● Kaminari-mon Bon Dance Festival
Sep 7th (Sat), 2019
*In the case of rainy weather, announced on the official site at 12:00 on the day
https://www.kaminari-bonodori.com/
Kanmi.Staff recommended events that are perfect for going out with Yukata are here!
● Sumida River Toro Nagashi (Lantern-Floating Ceremony)
Aug 10th (Sat)
https://e-asakusa.jp/culture-experience/13836″
When you go to Higashi Hongan-ji, Kaminarimon and Asakusa, please feel free to stop by Kanmi.!
▽ Kanmi.SHOP
1-2-5, Kaminarimon, Taito Ku, Tokyo To, 111-0034, Japan
Open Hours
Weekday: 13:00~17:00
Weekend & Holidays: 13:00~18:00
Unfixed holiday(Please see here for our closed day. →Here)
*Tax Free
▽ Kanmi.Atelier
1-1-11, Kaminarimon, Taito Ku, Tokyo To, 111-0034, Japan
Open Hours
Weekday: 11:00~19:00
Weekend & Holidays: closed
(*We will inform you by SNS or Shop News when temporary closed)
*Tax Free