【Eng.Ver】Take our featured "Gamaguchi" bag & accessories with Yukata to summer festival !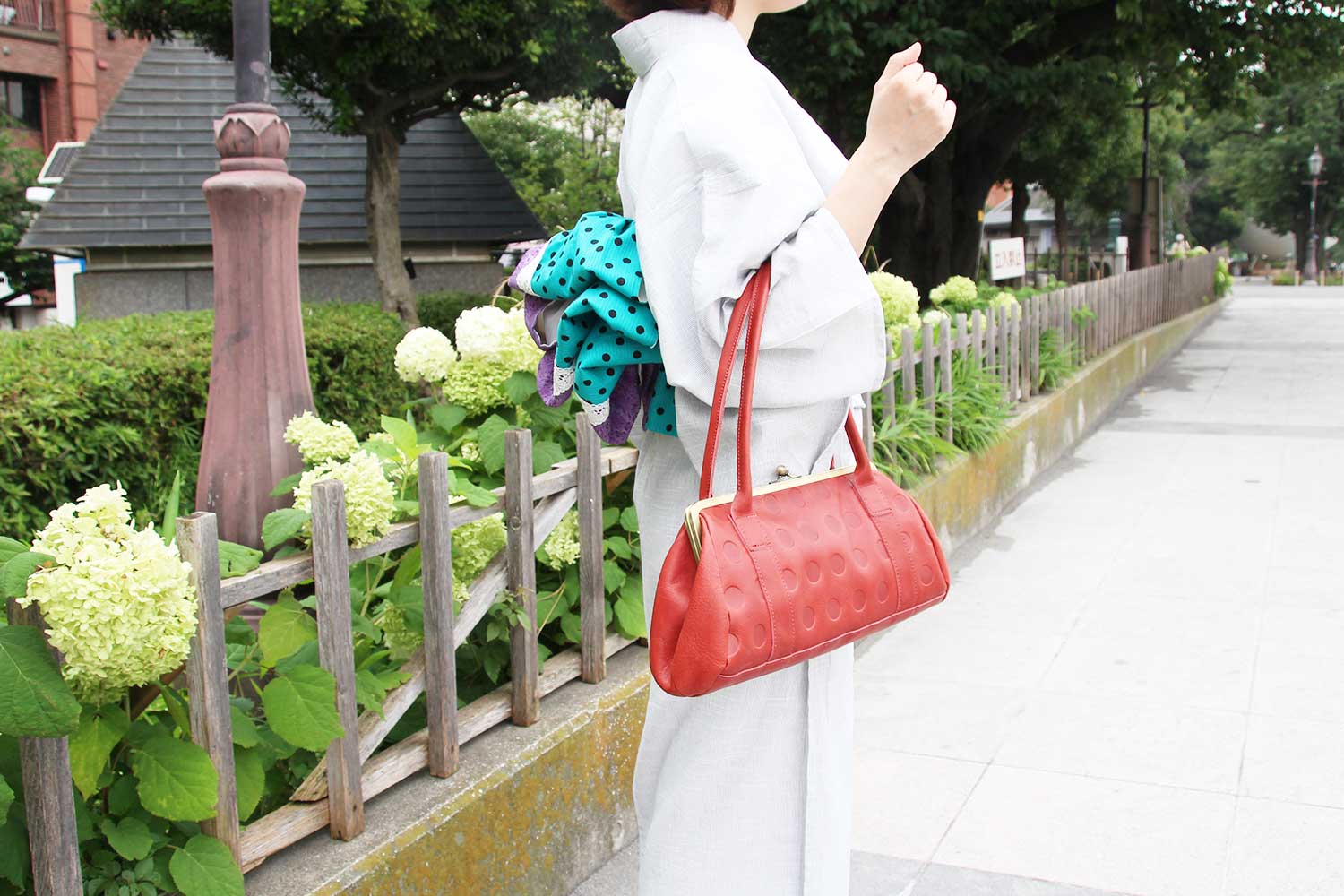 The season is coming, that the fireworks festival, the Bon dance festival, and the summer festival are held in various places at the weekend.
Getting out wearing Yukata is a little hard to prepare, but if you enjoy the summer to the fullest, after all it's Yukata! The usual town and your own also look a little new.
The bags and accessories are essential for making your outings in such Yukata more comfortable and fashionable.
So, today, we Kanmi. will introduce our recommendation of Japanese frame purse "Gamaguchi Bags" and accessories that suits Yukata.
Have a nice summer!
Handbag and Obi clip for a simple stylish Yukata.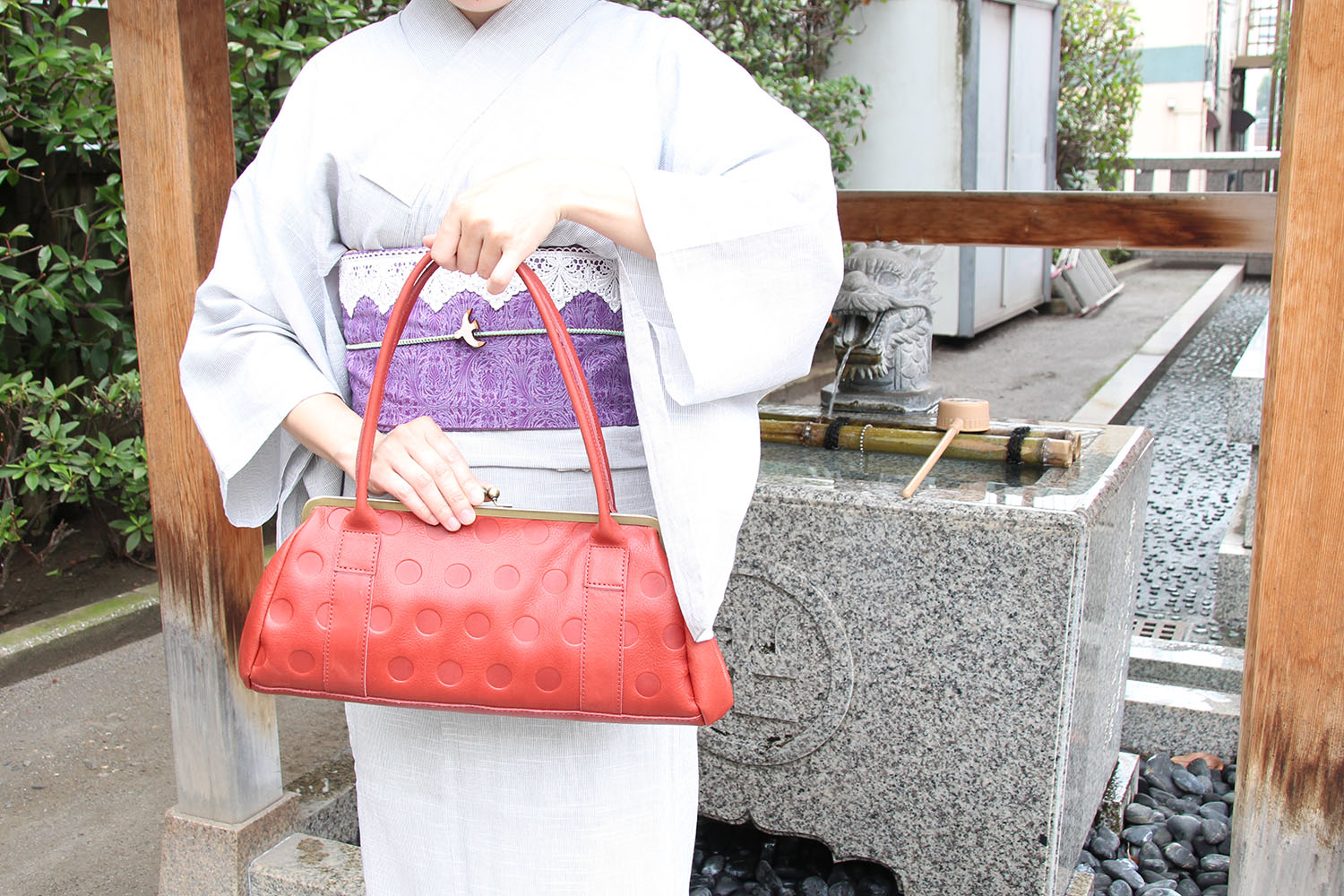 #Gamaguchi bag
#Yukata
Cherry-red and trapezoidal handbags are recommended for simple adult Yukata!
The silhouette is like a kimono bag, but the embossed dot pattern is a casual accent. Because it is a Gamaguchi bag, the frame is wide open and it is easy to carry in and out of luggage.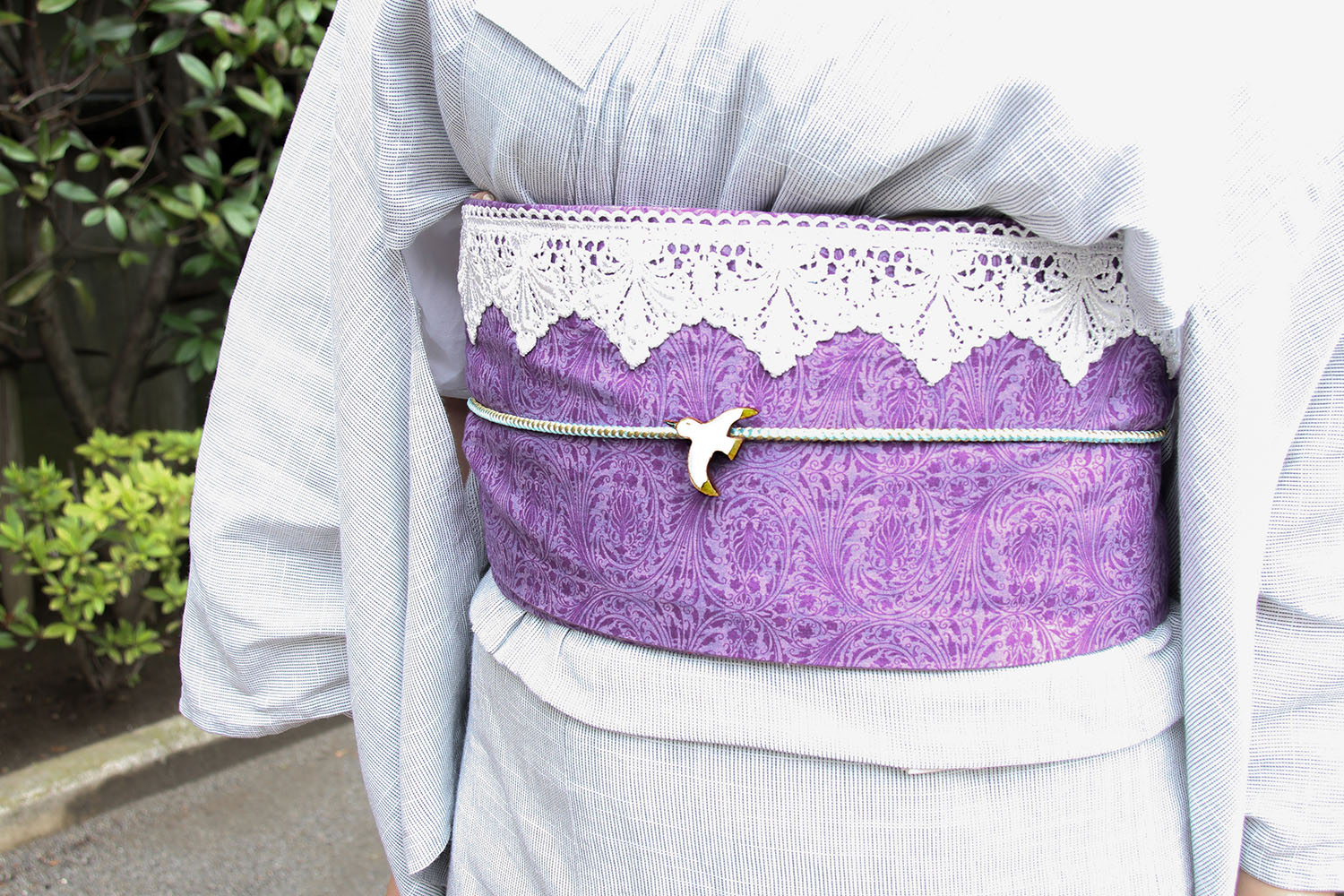 Casually a seagull brooch on a Obi clip. Enjoy your summer night with adult retro playful mood.
Bag
◆ Candy Gamaguchi purse / Cherry Red
¥24,840(inc.tax)

Shop Here
Obi clip
◆ Clearwood Animal Brooch / Seagull
¥1,944(inc.tax)

Shop Here
Retro Japanese-style Yukata with Round shape purse and accessories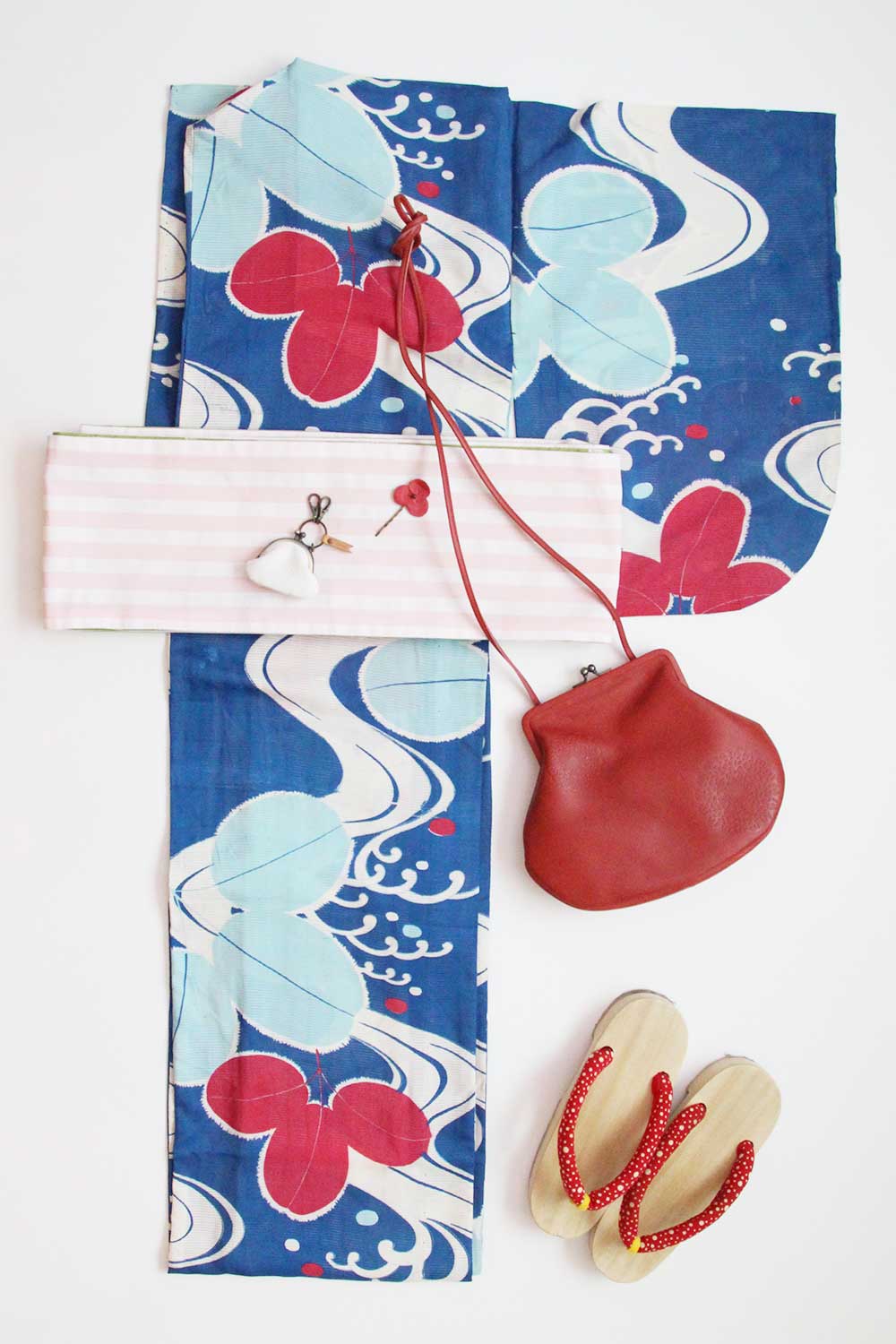 #Gamaguchi bag
#Gamaguchi wallet
#Yukata
For a retro Japanese-style Yukata, it is recommended to wear in modern style with a leather Gamaguchi purse & small Gamaguchi key rings!
If you have a purse which is the series of the motif of the small birds are hidden and the pattern of the round lace is embossed, makes your feeling of the girly is also doubled.
It looks small, but it can be stored in a long wallet because it has depth.
Small Gamaguchi key rings is a key ring with a palm-sized coin case.
It is perfect for fireworks festival etc that you want to go out lightly.
Bag
◆ Small birds lace Gamaguchi purse / Red
¥12,420(inc.tax)

Shop Here
Coin case & key ring
◆ Drop Tree small Gamaguchi keyring / White
¥2,160(inc.tax)

Shop Here
Hair accessory
◆ Three flowers hairpin / red
¥864(inc.tax)

Shop Here
Show new items of autumn and winter! [New item 1]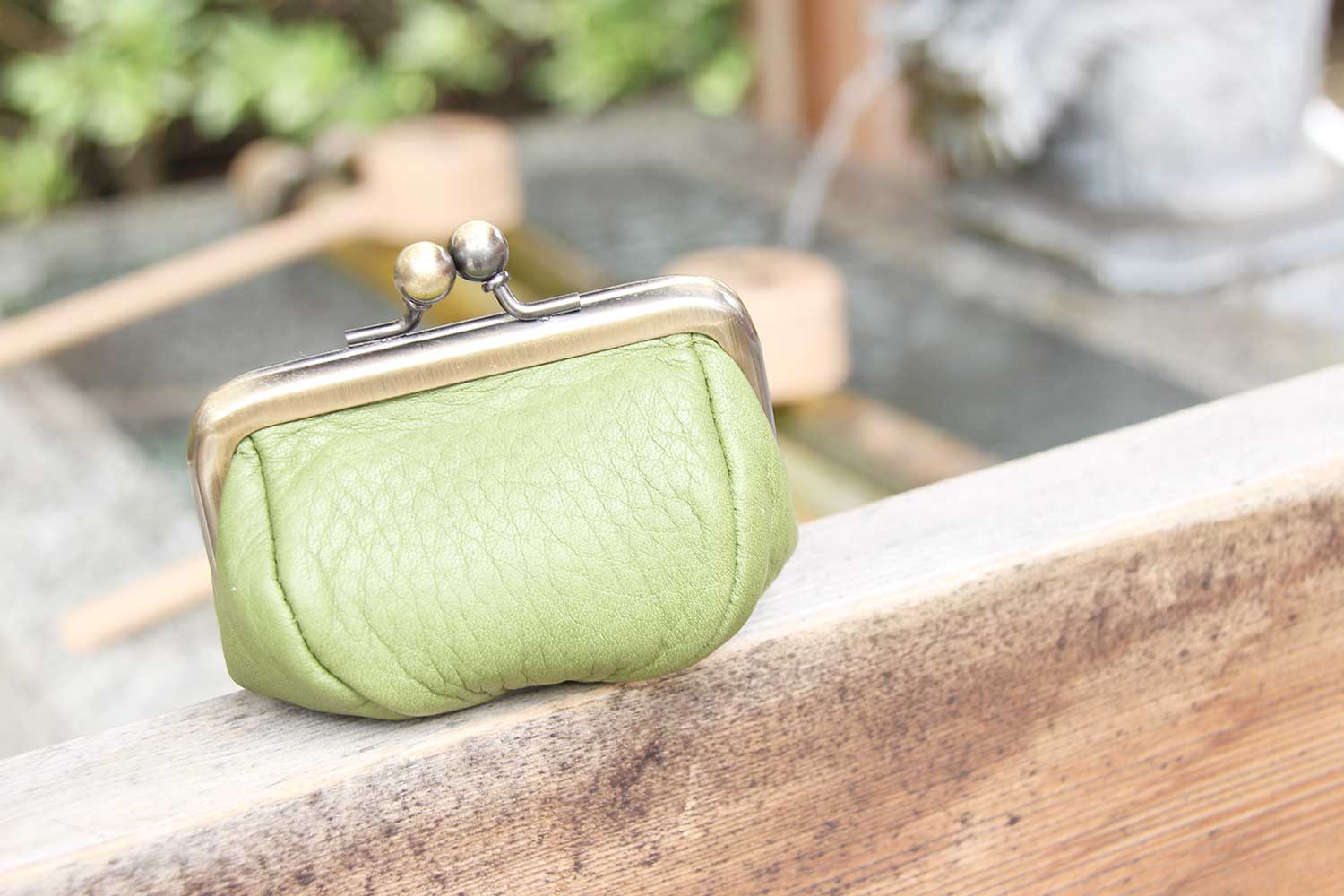 The latest item to be introduced this week is "Ojami Gamaguchi" (provisional), the color taste and shape are very unique and cute.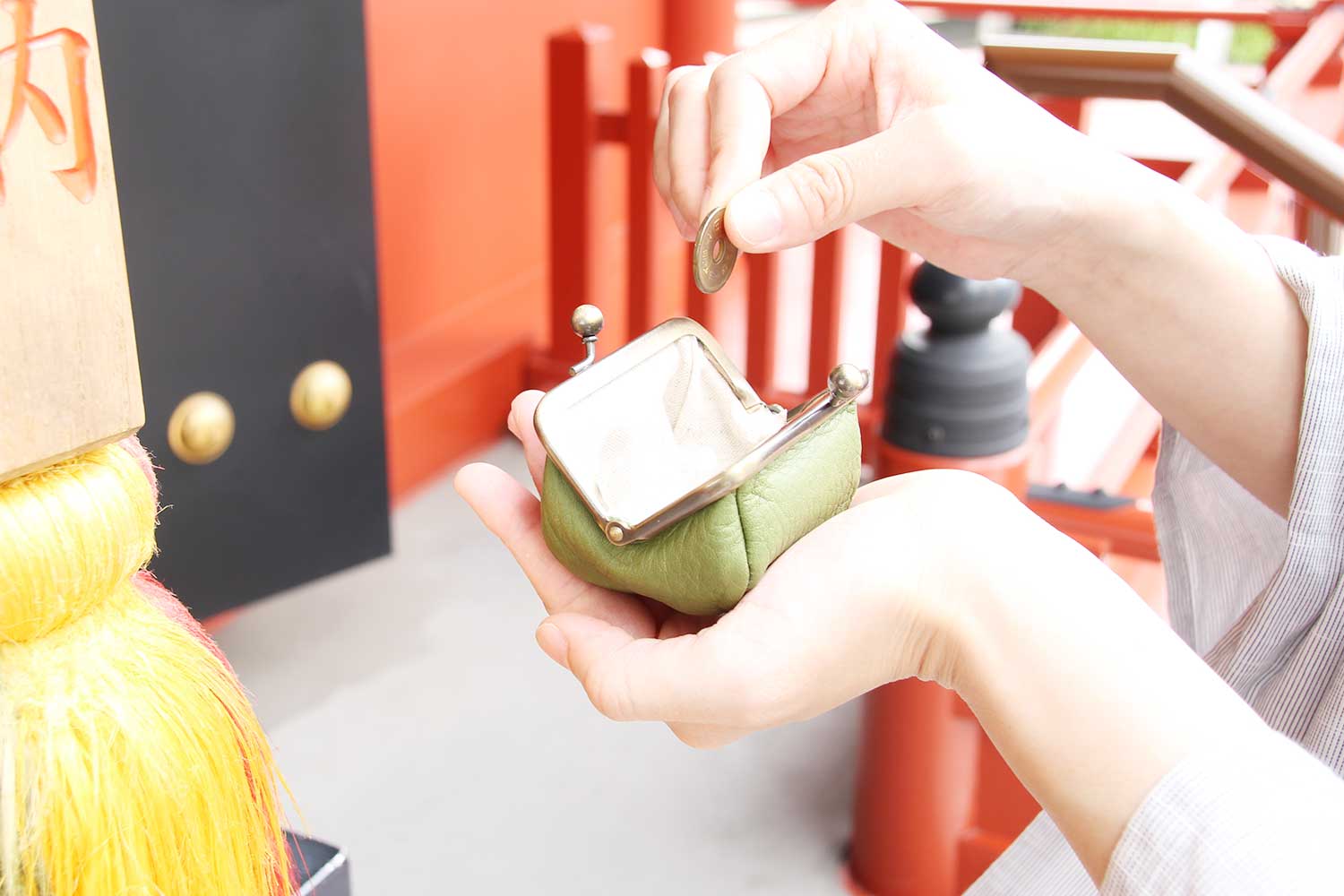 The open look is also very cute.
Please look forward to the launch!
Asakusa Bon festival dance & recommended event information!
It is a Bon dance festival held near the atelier and shop of Kanmi.
● Higashi Hongan-ji Bon dance festival
Aug 21th, 2019 (Wed)
*To be postponed to next day in case of rain
https://www.honganji.or.jp/news/2019/07/post-248.html
● Kaminari-mon Bon dance festival
Sep 7th, 2019 (Sat)
*In the case of rainy weather, we announce on the official site at 12:00 on the day
https://www.kaminari-bonodori.com/
Kanmi.Staff recommended events that are perfect for going out with Yukata are here!
● Sumida Aquarium "Tokyo Goldfish Wonderland 2019"
July 12th (Fri) ~ Oct 31th (Thu), 2019
https://www.sumida-aquarium.com/news/details/1738/"
When you go to Higashi Hongan-ji, Kaminarimon and Sumida Aquarium, please feel free to stop by Kanmi.!
▽ Kanmi.SHOP
1-2-5, Kaminarimon, Taito Ku, Tokyo To, 111-0034, Japan
Open Hours
Weekday: 13:00~17:00
Weekend & Holidays: 13:00~18:00
Unfixed holiday(Please see here for our closed day. →Here)
*Tax Free
▽ Kanmi.Atelier
1-1-11, Kaminarimon, Taito Ku, Tokyo To, 111-0034, Japan
Open Hours
Weekday: 11:00~19:00
Weekend & Holidays: closed
(*We will inform you by SNS or Shop News when temporary closed)
*Tax Free
How was Kanmi's recommendation of "Gamaguchi Bags" and accessories that suits Yukata?
Kanmi.ONLINE SHOP in Asakusa Kanmi.SHOP have many other leather accessories such as bags, wallets and accessories.
In addition, there are shops where you can buy Kanmi. all over Japan, so please contact us if you would like to see the items you are interested in.
Next week, we are introducing our "leather bags" and accessories that suits the Yukata that we want to bring to the summer festival. Please look forward to it!